If you notice your Zanussi washing machine isn't working as efficiently as it should be, you may need to call on professional help. Zanussi has been one of the UK's top household brands over the last few decades and has made its mark with quality household items from washing machines to ovens and cookers. However every hard working household appliance may fall into disrepair from time to time.
Here at Domex we offer a rapid response washing machine repair for all models of Zanussi washing machines. We have a huge range of Zanussi parts in stock and ready for installation by our expert technicians.
Reliable Zanussi washing machine repairs with a quality guarantee
The reputable Italian Zanussi household appliance manufacturer brand is renowned worldwide for its quality appliances. Among these are its efficient and durable washing machines. As with any appliance though, it's possible that your washer may experience problems due to regular wear and tear. These issues can range from the washer not spinning or not draining to leaking and even pump and filter problems.
Irrespective of the challenge you are facing with your washer, you can always count on us for your reliable Zanussi washing machine repairs that come with a quality guarantee. In fact, we are so confident in our efficiency and professionalism that we offer a 12-month guarantee on faults repaired and/or spare parts fitted. We want you to have assurance in the full and restored functionality of your appliance and that's why we strive to give you our utmost best for your satisfaction.
Over the past 15 years, our team of over 70 engineers has been repairing multiple brands and household appliances to a high standard of quality, resulting in us receiving an exceptional Trustpilot score left by thousands of happy customers. In addition to this, we take great pride in our multi award-winning service to you that means you get quality assurance and efficiency all the way through.
When you book your appointment with us by giving us a call or by booking online, your assigned Domex engineer will give you a call up to 30 minutes before their arrival so that your time isn't wasted. They will also arrive at your home fully equipped with all the necessary tools and the right spare parts so that we limit all follow up visits to an absolute minimum. In fact, nearly four out of every five repair jobs are completed in just one visit – a testament to our commitment to respecting your time.
As an Approved Service Partner to many renowned global appliance manufacturers, we also take pride in the training our engineers go through. They are trained to the highest and most rigorous internal standards that exceed the industry benchmarks and as such, you can count on them for professionalism that meets your needs and expectations for quality.
Get in touch with us for your same-day or next day service or book your appointment during one of our regular weekday slots. Our trusted and friendly team is at your disposal, ready to be of service to you at every step of the way.
Resolving a variety of Zanussi washing machine problems with efficiency and professionalism
Having your Zanussi washer malfunction can be a highly frustrating experience. You're left with piles of dirty laundry and nowhere to get them fresh and clean. We rely so much on our washers that when they break down or malfunction, this often takes us by surprise. As such, you may be left facing the problem of who to call, when and for how much. Luckily, at Domex, we cover all your concerns and will resolve any Zanussi washing machine problems that you may be experiencing. With us, you are always number one and we strive to put you first at every part of our service to you.
For example, your assigned Domex engineer will give you a call up to 30 minutes before their scheduled appointment as a courtesy and to ensure you're not left waiting all day for a repair technician to arrive. In addition to this, with us you can count on efficiency, professionalism and reliability that gives you confidence in the restored functionality of your washing machine and greater peace of mind in its extended longevity.
We know that it is challenging when your Zanussi washing machine is not spinning or when your Zanussi washing machine is not draining. But that doesn't have to be an unpleasant hassle or experience. With us, you can avail of a 12-month quality guarantee on the fault repaired and/or spare part fitted. And what's more is that your assigned engineer will bring along all the necessary spare parts with them. This means you can rest assured that you won't have to wait for days or weeks for quality spare parts to arrive. Our engineers will also bring all the tools needed to carry out accurate diagnostics and thorough repairs you can count on.
A highly trained Zanussi washing machine engineer who resolves all faults
When you have a Zanussi washing machine and you need to book a repair service, you need to be assured of the quality of your service. Alternatively, you could waste a lot of time, money and resources in low quality repairs that don't provide you with the assurance you need for your appliance. Zanussi washers are a big investment in your home and that's why you can't rely on just anyone for your repairs.
You need an Approved Service Partner, a 12-month quality guarantee on the fault repaired and/or spare part fitted, a reliable and highly skilled Zanussi washing machine engineer and more. That's exactly what we at Domex offer you with our multi award-winning service that's trusted by thousands of happy customers that have left exceptional ratings and reviews of our service on Trustpilot.
Book your same-day, next-day or regular service with us today! Simply give us a call or fill in the online form on our website. We are here to help make your repair service as seamless and efficient as possible.
Why Choose Domex Appliance Services?
Fast, Reliable Service
We offer same-day and next day visits. With our outstanding first-time fix rate, 4 out of 5 repairs only need one visit.
Great Value
We quote diagnostic and repair fees separately. You only pay the repair fee if we fix your appliance. If we can't, you just pay for the diagnostic.
You Are in Control
Choose the day and time for us to visit, and we will send you a 3 hour window when our engineer is due to arrive.
We Are Experts
We know appliances and how to repair them. This is why we are trusted by most major manufacturers to be their service partner.
Confidence
You get an industry leading 12 months guarantee on your repair including any electrical / mechanical (non-cosmetic) parts we fit.
Trustworthy
Our experienced engineers are DBS (CRB) checked, trained comprehensively. We have awesome reviews, incredible service scores and multiple awards!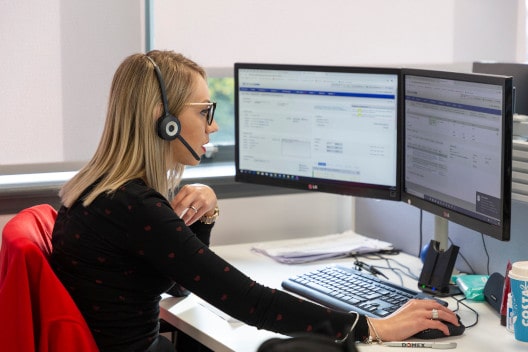 We offer a 1 year guarantee on all repair work to give you peace of mind. If within that year anything should happen don't hesitate to pick up the phone.
For your convenience we offer same day, evening and also weekend visits upon request. We understand that our customers lead busy lives and so to combat this we try to be as flexible as possible.