The team at Domex have years of experience providing expert Zanussi fridge freezer repairs throughout London and the surrounding areas.
No matter what the problem, our engineers can arrange a same day, next day or even a weekend or evening call out to get the fault remedied quickly. And with fixed price labour and parts, you can be sure of a convenient and cost-effective service that will get your fridge or freezer back up and running in no time.
Zanussi fridge freezer installation
Our team can provide Zanussi fridge freezer installation to ensure it is properly set up. From simple under-the-counter fridges to large American style fridge freezer units, we will get it installed and ready for you and your family to use in no time.
Zanussi fridge freezer repairs you can always rely on
With a history dating back over a century, the Italian brand Zanussi is renowned for its exceptional fridge freezers. These appliances offer an ergonomic design, quiet operations, energy efficiency and accurate temperature control, among many other impressive functionalities. However, like all appliances, they do experience wear and tear from time to time and may start malfunctioning or stop working altogether.
In such cases, you'll need reliable Zanussi fridge freezer repairs that you can count on. No one understands better than we at Domex how frustrating being in this situation can be. You're dealing with a race for time because the last thing you want is for your food to get spoiled and go off, leading to unwanted waste that can be quite costly.
That's why when you choose Domex as your appliance repair service provider, you can count on us for a same-day or next-day service, in addition to our regular weekday slots, for emergencies or just a regular service that ensures your Zanussi fridge freezer is in excellent working condition. Get the restored functionality of your appliance again and enjoy its extended longevity as we attend to your fridge freezer repairs with professionalism that you can always rely on.
When you choose us as your service provider, you're choosing a trusted household name in the industry. With thousands of exceptional reviews on Trustpilot left by our happy customers, we take great pride in our reputation for excellent service provision. With us, you can avail of our 12-month guarantee on faults repaired and/or spare parts fitted, alongside the fact that your assigned engineer will come fully equipped with a range of spare parts to ensure that you don't have to waste time waiting for spare parts to arrive days or even weeks later.
As an Approved Service Partner to many renowned global appliance brands and manufacturers, you're in excellent hands with Domex at your side due to the high quality workmanship that our engineers provide. Choose us when you're looking for Zanussi fridge freezer repairs near you and enjoy quality and professionalism.
Common Zanussi fridge freezer problems that we fix
With years of experience, you can be sure the team of appliance engineers at Domex have seen and dealt with all kinds of problems and faults with Zanussi fridge freezers – from over freezing to not cooling, compressor failures, faulty thermostats, insulation damage, blockages, leaks and broken seals!
As is common with any appliance model, fridge freezers can malfunction for a variety of reasons. Some common Zanussi fridge freezer problems include water leaks, ice maker malfunctions, temperature irregularities, door seal issues and a whole lot more. When this happens, you need reliable Zanussi repairs that are carried out with efficiency and professionalism. Luckily, at Domex, that's exactly what we offer and more.
Not only will your assigned engineer give you a call up to 30 minutes before their arrival but they'll also come fully equipped with all the spare parts needed to carry out the repair work. With us, you are assured of a 12-month guarantee on the fault repaired and/or spare parts fitted for greater peace of mind and confidence in the restored functionality of your appliance. Irrespective of the fault you're experiencing with your Zanussi fridge freezer, you'll always be able to count on our exceptional and unmatched service that always puts you first. Get in touch with us by calling or booking your appointment online and avail of a multi award-winning service that's trusted by thousands of households.
We assure you that we will keep your service as efficient as possible. In fact, nearly four out of every five appliance repair jobs we carry out are completed in just one visit. This means that we strive to keep all follow up jobs to an absolute minimum to assure you that we don't waste your time.
As an Approved Service Partner to brands such as Zanussi, our highly trained engineers are trusted by multiple global appliance manufacturers, meaning that our service meets and exceeds the quality standards expected in the industry. Our engineers go through some of the most intensive and rigorous internal training that goes above and beyond the industry standards to assure you of a quality service.
A specialist Zanussi engineer for an exceptional service
If your Zanussi fridge freezer is giving you hassles, you need a reliable and experienced Zanussi engineer to help address your repair needs. That's exactly where we come in with our highly trained engineers. They go through some of the most intensive internal training that exceeds the industry quality standards. And apart from this, we're also an Approved Service Partner to brands like Zanussi. This means that when you're ready for your Zanussi appointment and you're ready to book a repair service, you can always count on our team of over 70 specialists to help.
With over 15 years of experience in helping thousands of households with their appliance repair needs, you can now enjoy greater confidence in the improved functionality and extended longevity of your appliance. Have greater peace of mind when you get in touch with us by either booking online or giving us a call. Whichever option is easiest for you, one thing you can always count on is our professionalism and dedication to serving you. Get in touch with us today.
Why Choose Domex Appliance Services?
Fast, Reliable Service
We offer same-day and next day visits. With our outstanding first-time fix rate, 4 out of 5 repairs only need one visit.
Great Value
We quote diagnostic and repair fees separately. You only pay the repair fee if we fix your appliance. If we can't, you just pay for the diagnostic.
You Are in Control
Choose the day and time for us to visit, and we will send you a 3 hour window when our engineer is due to arrive.
We Are Experts
We know appliances and how to repair them. This is why we are trusted by most major manufacturers to be their service partner.
Confidence
You get an industry leading 12 months guarantee on your repair including any electrical / mechanical (non-cosmetic) parts we fit.
Trustworthy
Our experienced engineers are DBS (CRB) checked, trained comprehensively. We have awesome reviews, incredible service scores and multiple awards!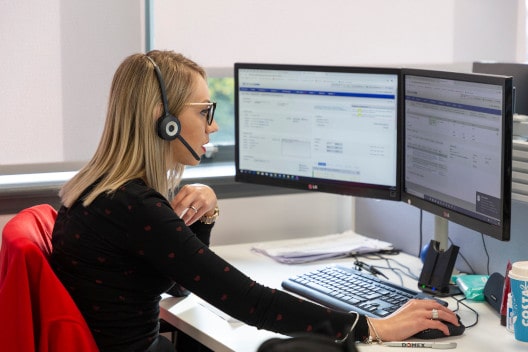 You can rely on our team to find the cause of the fault and have it repaired quickly. For any more information about our low cost, reliable and professional fridge freezer repairs, or to book a call out, simply get in touch today.