If your Smeg fridge freezer breaks down, it can be a nightmare scenario, with food perishing and going to waste. To avoid the inconvenience of a broken fridge freezer you can rely on our expert engineers at Domex to provide Smeg fridge freezer repairs – we'll ensure that your appliance is back to working order to save you time, money and hassle. What's more, all our repairs come with a 1 year guarantee, giving you peace of mind.
SMEG FRIDGE FREEZER INSTALLATION
Purchasing your fridge freezer might be an easy process, but installing it in your home can be dangerous and frustrating without the proper knowledge. With professional Smeg fridge freezer installation from our team, you can rest assured that your appliance will be safe and ready to use as soon as it arrives.
High quality Smeg fridge freezer repairs with a 12-month guarantee
Smeg is an innovative household appliance manufacturer with its fun and retro designs. But apart from appearance, Smeg appliances are also highly durable, reliable and efficient. If you are the proud owner of a Smeg fridge freezer, you know how well they work. They operate quietly, are highly efficient and keep your food cool and fresh, preventing it from spoiling.
But with regular wear and tear, it's possible that your Smeg fridge freezer may start giving you problems. Examples include water leaking from your fridge, your fridge freezer making a loud or odd noise, the ice maker not producing ice or even the temperature control not being as efficient as it could be. This is when you need reliable Smeg fridge freezer repairs that you can count on.
With Domex at your side, you have a trusted and reliable appliance repair service provider that puts your needs first every single time. We assure you of quality through our 12-month guarantee on the fault repaired and/or spare parts fitted. In addition, we'll bring all the necessary spare parts with us in a branded van so that we ensure you get an efficient service and aren't left waiting for days for your fridge freezer's spare parts to arrive, leaving you in the dark and with food going to waste.
In fact, nearly four out of every five repair jobs we carry out are completed in just one visit as we strive to keep all follow up visits to an absolute minimum. With each of these elements that come part and parcel with our service, you know you can have greater certainty, confidence and assurance that your appliance's functionality will be restored and its longevity extended, saving you time and money.
When you choose Domex as your appliance repair service provider, you are also choosing an Approved Service Partner to multiple globally renowned appliance manufacturers. In addition to the exceptional service ratings we have received over time on Trustpilot, we also take great pride in our multi award-winning service that always puts you and your appliance repair needs at the forefront of everything we do.
When you book your Smeg fridge freezer repair service with us, you can count on courtesy and professionalism through and through. Your assigned Domex engineer will give you a call up to 30 minutes before their arrival to ensure your time isn't wasted. What's more is that with us, you can book a service that suits your needs and schedule.
We offer same-day and next-day appointments for emergencies as well as our regular weekday slots for convenience and peace of mind. Book your service with us by calling or filling in a short online form on our website and the next time you are looking for Smeg fridge freezer repairs near you, rest assured that you've found the perfect partner to meet your appliance repair service needs professionally and with a quality guarantee.
Professionally addressing a multitude of Smeg fridge freezer problems
Whether you have a more standard fridge freezer that's giving you hassles or your Smeg American fridge freezer problems are worrying you, you can always count on our team of over 70 engineers at Domex to help resolve any Smeg fridge freezer problems you may have.
From Smeg fridge freezer door problems to water leaks and anything in between, our engineers undergo some of the most stringent and rigorous internal training that not only meets but exceeds the industry's quality standards, making us an Approved Service Partner to multiple global appliance manufacturers.
With us, you're also assured of quality through our 12-month guarantee on the fault repaired and/or spare parts fitted for your convenience and peace of mind. Get in touch with us for professionalism and efficiency to restore the functionality of your appliance and extend its longevity, ensuring your food and perishables are kept as fresh and cool for as long as possible.
Your qualified and fully reliable Smeg engineer ready to assist
Because Smeg fridge freezers are intricate pieces of machinery that we need on a daily basis, you need the right spare parts and an experienced Smeg fridge freezer engineer to help address your appliance repair needs.
Luckily, at Domex, you can count on our rigorously trained engineers with over 15 years of experience to help resolve your Smeg fridge freezer problems, giving you quality assurance, confidence in your appliance and more peace of mind while ensuring we save you time, money and hassles.
No one understands better than we do when you need a reliable appliance repair service provider. We are here with our experienced team and our extensive experience to offer you a service that's considered among the best in the industry, making us a trusted household name for quality appliance repairs, always putting your needs first.
Why Choose Domex Appliance Services?
Fast, Reliable Service
We offer same-day and next day visits. With our outstanding first-time fix rate, 4 out of 5 repairs only need one visit.
Great Value
We quote diagnostic and repair fees separately. You only pay the repair fee if we fix your appliance. If we can't, you just pay for the diagnostic.
You Are in Control
Choose the day and time for us to visit, and we will send you a 3 hour window when our engineer is due to arrive.
We Are Experts
We know appliances and how to repair them. This is why we are trusted by most major manufacturers to be their service partner.
Confidence
You get an industry leading 12 months guarantee on your repair including any electrical / mechanical (non-cosmetic) parts we fit.
Trustworthy
Our experienced engineers are DBS (CRB) checked, trained comprehensively. We have awesome reviews, incredible service scores and multiple awards!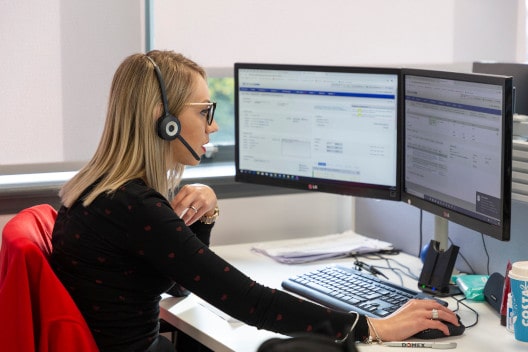 Broken door seals, thermostat issues, compressor failure and electrics failure are just some of the common Smeg fridge freezer problems that we can fix. With fully qualified engineers, you can rely on us to solve any issues you might have with your appliance, meaning you won't have to throw food out or put up with nuisance issues.
Contact us today and our friendly team will provide more information about our services and can arrange a visit from an engineer.