Your dishwasher is an important appliance in your household and at Domex we understand the need to have it in optimum working condition at all time. Now, with Smeg dishwasher repairs, you can rely on our engineers to keep your dishwasher fully functional no matter what the issues may be.
SMEG DISHWASHER INSTALLATION
Installing appliances in your home can be tricky and dangerous if you aren't sure what you're doing. That's why our fully qualified team are able to provide Smeg dishwasher installation when your new appliance arrives. You can have peace of mind knowing that your dishwasher will be ready to use immediately and safely.
Enjoy restored functionality with a quality Smeg dishwasher repair service
Smeg dishwashers are renowned for their retro-design and stylish appearance. But that's not all. These appliances are also of an exceptionally high quality and they do a chore many of us simply don't have time to do anymore. That's why when your Smeg dishwasher fails to function properly or stops working altogether, you've got a challenge on your hands.
It's about time and resources, both of which are highly precious to today's modern households. When faced with a faulty dishwasher—whether due to a faulty spray arm, incorrect temperature settings or blocked pumps and filters—you need to have the functionality of your appliance restored as efficiently and professionally as possible. This is where Domex shines.
As a trusted name for household appliance repairs in London and the surrounding areas, your Smeg dishwasher repair service is now easy to book with quality guaranteed. In fact, we offer a 12-month guarantee on the fault repaired and/or the spare part fitted for your assurance and peace of mind. In addition, your assigned Domex engineer will come fully equipped with all the necessary tools and spare parts to ensure your service is carried out as efficiently as possible. We strive to keep all repair jobs efficient and that's one of the reasons why most of our repair jobs only require one visit. Nearly four out of every five repair jobs are completed in just one visit so that we don't waste your time.
Apart from all this, when you book your service with us, you can rest assured that your assigned Domex engineer will give you a call up to 30 minutes before their scheduled appointment at your home. This is done as a courtesy and as a way to respect your time. Because we understand that broken down appliances are an unexpected part of life and we often don't have time to dedicate to having them repaired.
With us, you can enjoy a same-day and next-day service and take advantage of the fact that we are an Approved Service Partner to multiple global appliance manufacturers, including Smeg. As such your appliance will be in excellent working condition, your time won't be wasted and our quality guarantee will ensure you don't have to think about this problem for months to come.
Simply book your service with us today and take advantage of all these benefits. Give us a call or book an appointment online. We make reaching out to us simple and easy and our friendly team is at your service, ready to help you in any way we can.
Your trusted and reliable Smeg dishwasher engineer
When your dishwasher breaks down, you're back to washing dishes the good old fashioned way. But not only is this not efficient, it's time consuming and a chore most of us dislike. However, having clean dishes is a must for any household and that's why you need a trusted and reliable Smeg dishwasher engineer to take care of your appliance repair needs.
When you choose Domex, you are choosing reliability and quality. With over 10 years of experience in repairing domestic appliances, we have refined our training process and each of our engineers goes through some of the most rigorous and intensive training in the industry, far surpassing the industry's quality standards.
This is just one of the reasons why we are considered an Approved Service Partner to multiple global appliance manufacturers. With us, your appliance is in safe and capable hands and its restored functionality will be a result of our quality workmanship that you can rely on.
With our service, you are also guaranteed 12 months of assurance on the fault repaired and/or spare part fitted so that you can enjoy greater peace of mind and service satisfaction. In addition to this, your Domex engineer will bring all the necessary spare parts with them so no time is wasted. They'll also give you a call up to 30 minutes before their arrival to once again ensure that your time and service is as efficient and optimally carried out as possible.
Accuracy and precision with your Smeg dishwasher troubleshooting
Your Smeg dishwasher is a precise and quality appliance in your household, performing a crucial function. But when it breaks down or stops working altogether, you need reliable and accurate Smeg dishwasher troubleshooting to address the issue and restore its functionality.
Whether it's maintenance, installation or repairs, with your assigned Domex engineer, you are assured of quality through and through. You can avail of our 12-month guarantee on the fault repaired and/or spare part fitted and you can also enjoy peace of mind knowing that the workmanship on your Smeg dishwasher is of the highest quality standards.
We take great pride in being rated as an exceptional service provider on Trustpilot by hundreds of satisfied customers and our multi award-winning service will give you the assurance that you need for a quality and professional appliance repair job. Book your service with us today—by giving us a call or booking online. Our friendly team is ready to help.
Why Choose Domex Appliance Services?
Fast, Reliable Service
We offer same-day and next day visits. With our outstanding first-time fix rate, 4 out of 5 repairs only need one visit.
Great Value
We quote diagnostic and repair fees separately. You only pay the repair fee if we fix your appliance. If we can't, you just pay for the diagnostic.
You Are in Control
Choose the day and time for us to visit, and we will send you a 3 hour window when our engineer is due to arrive.
We Are Experts
We know appliances and how to repair them. This is why we are trusted by most major manufacturers to be their service partner.
Confidence
You get an industry leading 12 months guarantee on your repair including any electrical / mechanical (non-cosmetic) parts we fit.
Trustworthy
Our experienced engineers are DBS (CRB) checked, trained comprehensively. We have awesome reviews, incredible service scores and multiple awards!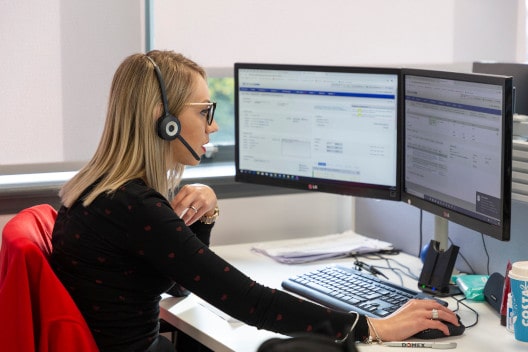 There are various faults which can develop in any dishwasher; some common Smeg dishwasher problems that we fix here at Domex include issues with door wiring, mains filter, drain pump and function failures. With the assistance of our expert engineers, you can rest assured that your dishwasher will be up and running again in no time.
Get in touch with our professional team today for more information or to arrange for a visit from an engineer.