If your Miele washing machine has run into troubles, you don't need to worry. Here at Domex, we're an award-winning appliance specialist who are approved to carry out Miele washing machine repairs, servicing and maintenance – helping you get back up and running in no time at all. 
Miele Washing Machine Fault Fixing
When errors and faults crop up with your machine, it's important to get a professional to swiftly diagnose and correct the problem.
Perhaps the water isn't draining correctly? Or maybe it's making an unusual noise? Whatever the problem, our fully trained engineers will assess your machine and carry out washing machine repairs and part replacement where necessary, finally conducting a safety check before we leave to make sure everything is in order.
For a quick quote, simply get in touch with our team today – we'll be with you shortly.
Miele washing machine repairs with a quality guarantee
If you have a Miele washing machine, the chances are that you've chosen among the best in the industry. This premium household appliance manufacturer is known for its continued innovation and dedication to "forever better" when it comes to the various appliances it manufactures. And when it comes to your Miele washing machine, you can enjoy a large drum capacity for larger loads of laundry, energy efficiency, multiple washing programmes and automatic load detection. 
In addition to this, you can also take advantage of of its quick power wash function, its TwinDos system, which accurately dispense the right amount of detergent in the machine, stain removal programmes, quiet operation at exceptionally low decibels and a whole lot more. Overall, your Miele washing machine is something to be prized and it's an investment that is expected to last you for decades.
However, as with all things technology-related, it's possible that you may encounter problems with your appliance and you may need Miele washing machine repairs or maintenance. Luckily, with Domex, this is something you don't have to worry about because we have exceptionally well trained engineers that go through rigorous internal training that exceeds the quality standards in the industry, making us an Approved Service Partner for multiple global brands. 
When you book your appointment with us, your Miele washing machine engineer will arrive at your home on time and give you a call up to 30 minutes before the appointment so that you can plan out your day and time better. They will also arrive with a wide range of spare parts to attend to the diagnosing of the problem and then attending to its repairs. These professionals have been carrying out repairs for over 20 years and we are proud of our reputation as an award-winning appliance repair service provider with an exceptional Trustpilot score, as left by over 1,000 of our satisfied and happy customers.
With this in mind, when you need Miele washing machine repairs, you know you can always count on us to offer the right assistance at the right time. We strive to resolve each of our customers' washing machine problems as diligently and efficiently as possible, keeping follow up visits to an absolute minimum. In addition to this, you can count on our 12-month guarantee on faults repaired and/or spare parts fitted as part of our overall stamp of quality for superb workmanship that extends the life of your appliance and improves their functionality and efficiency.
Miele washing machine servicing you can always count on
When you get in touch with us at Domex, we will assign a specialist Miele washing machine engineer to your case and you can rest assured from then on that your appliance is in capable hands. Although you can always call in any repair person to take a look, they will rarely be able to provide the high quality standards and levels of professionalism that the Domex engineers can provide.
Whether you need Miele washing machine servicing, repairs or maintenance, we've got you covered. We strive to provide each of our customers with an exceptional level of service from A to Z, ensuring that we don't waste your time but rather give you the benefit of time, money and hassles spared.
Get in touch with us at your earliest convenience and book your washing machine repair service with us. We are just a phone call or a few clicks away. It's totally up to you. You can fill out the short online form on our website to get started or just dial our number to book an appointment. We are available for same-day and next-day services, in the event of an emergency, as well as other days of the week to suit your schedule and for your convenience.
A trusted and reliable Miele washing machine engineer at your service
When you need Miele washing machine repairs, you also need to be sure that the engineer arriving in your home is trustworthy, safe and reliable. This is why each of the over 70 engineers in our staff complement are DBS checked for your safety and peace of mind. Apart from this, having carried out repairs for over 20 years, we are an appliance repair service provider that takes pride in our exceptional service and reputation in the industry that is bolstered by our reliability and professionalism.
You can always count on us at Domex for your professional Miele washing machine spares and repairs and with a 12-month guarantee on the faults repaired and/or spare parts fitted, you can rest assured that your appliance is in good hands. You can enjoy quality workmanship and a longer lasting appliance with us as we strive to exceed the industry standards and your expectations. 
Simply reach out to us for your appliance repair appointment and our friendly team will assign an engineer to your case so that you can once again enjoy the full functionality and efficiency of your Miele washing machine.
Why Choose Domex Appliance Services?
Fast, Reliable Service
We offer same-day and next day visits. With our outstanding first-time fix rate, 4 out of 5 repairs only need one visit.
Great Value
We quote diagnostic and repair fees separately. You only pay the repair fee if we fix your appliance. If we can't, you just pay for the diagnostic.
You Are in Control
Choose the day and time for us to visit, and we will send you a 3 hour window when our engineer is due to arrive.
We Are Experts
We know appliances and how to repair them. This is why we are trusted by most major manufacturers to be their service partner.
Confidence
You get an industry leading 12 months guarantee on your repair including any electrical / mechanical (non-cosmetic) parts we fit.
Trustworthy
Our experienced engineers are DBS (CRB) checked, trained comprehensively. We have awesome reviews, incredible service scores and multiple awards!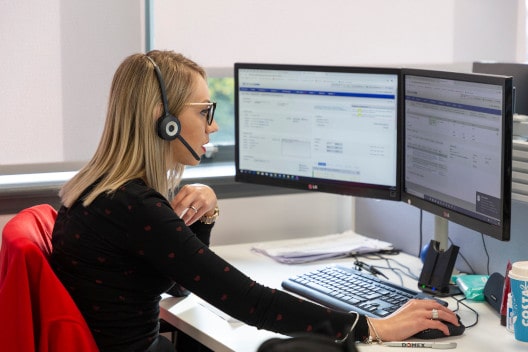 In need of urgent help? Our engineers offer same day repair, along with evening and weekend slots for flexibility, and a courtesy call 30 minutes prior to arrival so you aren't kept waiting. Plus, all our repairs come with a 1 year guarantee so you can be sure of a high-quality service every time.