Get to the root of your fridge freezer troubles with rapid repairs from Domex. As award-winning appliance repair engineers, we're approved to carry out Miele fridge repairs and fridge freezer repairs across London. Miele is a leading global appliance brand, but even the best makes and models experience issues over time. 
Time is of the essence when your fridge freezer runs into problems. Thanks to our flexible service, which includes same day, evening and weekend slots, we can carry out Miele refrigerator repairs quickly and professionally – so you aren't kept waiting. 
Quality guaranteed with your Miele fridge freezer repairs
Is your Mile fridge freezer giving you problems that you are unsure of how to address? Perhaps the temperature control is giving you issues and your fridge freezer is failing to cool or maintain temperatures? Maybe you have excessive ice and frost formation? Alternatively, you may have a faulty compressor or motor, electrical problems or issues with your control panel. Whatever your Miele fridge freezer problems may be, you can rest assured that our Domex engineers will be able to handle them all. 
We have been specialists in domestic appliance repairs for over 20 years and our service is classified as award-winning. This is in part due to the fact that our engineers have undergone some of the most thorough internal training that exceeds the industry standards. It is also due to the fact that we are an Approved Service Partner for many global manufacturers including Miele. In fact, with over 40 brands in our portfolio, we can handle all types of Miele fridge freezer repairs.
When you reach out to us for your Miele fridge freezer repairs, you can rest assured of high quality workmanship, attention to detail, skilled and knowledgeable engineers and a guaranteed service. In fact, we offer a 12-month guarantee on the faults that our engineers repair and/or the spare parts they fit. And speaking of spare parts, we bring a wide range of those with us so that we limit the need for follow up visits and give you maximum efficiency for your service. We have carefully studied the figures and have established that nearly four out of every five of our repair jobs are completed in one go. This means fewer follow up visits and less hassle and time wasted for you. 
When you are looking for Miele fridge freezer repairs near you, with our engineers at Domex, you can also rely on them to give you a courtesy call up to 30 minutes before their scheduled appointment at your home. This means that you can plan your day and schedule that much better instead of waiting all day or several days for a repair technician to arrive. 
Thousands of our customers are satisfied with our service and this is attested to by the fact that we have an exceptionally high Trustpilot rating. This and the combination of our comprehensive A to Z service makes us an award-winning appliance repairs service provider that you can always rely on for great quality service, top workmanship and excellent professionalism.
Trust Domex to handle your Miele fridge door handle repairs
One of the most common Miele fridge freezer repairs that arises due to regular wear and tear of your appliance is a broken or faulty door seal or gasket. In turn, this can result in a failure of your fridge freezer to adequately and accurately control or maintain the right temperatures. Of course, leaving this issue unaddressed means that you may be left with food that is going off and can no longer be consumed. This is why you need professional Miele fridge door handle repairs at your convenience and with an expert touch. 
The Domex engineer assigned to carry out the Miele repairs on your fridge freezer is thoroughly DBS checked for your safety. We have spent the last 20 years and more giving our customers an exceptional service that's backed by a 12-month guarantee on the faults repaired and/or the spare parts fitted. Each engineer arrives at your home at the scheduled time while giving you a call prior to their arrival with at least 30 minutes' notice. In addition to this, they will arrive with a wide range of Miele spare parts to ensure that your visit is resolved as expediently as possible.
A trusted and reliable Miele engineer at your service
When you get in touch with us, a Domex Miele engineer will be assigned to your case and you can rest assured that your fridge freezer will be in capable hands. Enjoy an extended longevity of your appliance as well as high quality workmanship that extends and boosts its functionality so that it can operate as efficiently as it is supposed to. When you need Miele repairs, you can always count on us to help. 
And if you have an emergency, you can get in touch for a same-day or next-day service, too. All that you have to do is reach out to us and book your appointment. You can do so by giving us a call or by filling out a short online form on our website. Whichever option you choose, you can rest assured that our friendly team is ready and happy to assist you.
Why Choose Domex Appliance Services?
Fast, Reliable Service
We offer same-day and next day visits. With our outstanding first-time fix rate, 4 out of 5 repairs only need one visit.
Great Value
We quote diagnostic and repair fees separately. You only pay the repair fee if we fix your appliance. If we can't, you just pay for the diagnostic.
You Are in Control
Choose the day and time for us to visit, and we will send you a 3 hour window when our engineer is due to arrive.
We Are Experts
We know appliances and how to repair them. This is why we are trusted by most major manufacturers to be their service partner.
Confidence
You get an industry leading 12 months guarantee on your repair including any electrical / mechanical (non-cosmetic) parts we fit.
Trustworthy
Our experienced engineers are DBS (CRB) checked, trained comprehensively. We have awesome reviews, incredible service scores and multiple awards!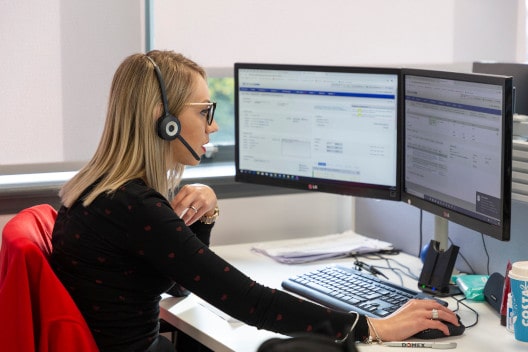 Our fully trained engineers will swiftly diagnose any faults or errors, before repairing or replacing parts as required. Before we leave, we'll conduct a thorough safety check for your peace of mind. And to assure you of a high-quality repair, all work carried out on Miele fridge freezers comes with a 1 year guarantee.
So, whether your freezer's temperature control is faulty or it's leaking water, we'll find the cause and the solution quickly and professionally. Simply get in touch for a quote or to arrange a visit.