Here at Domex we have over 15 years of experience in domestic appliance repairs for customers across London, Epsom and Surrey so when it comes to your Hotpoint washing machine, we are right on hand to help. To find your washing machine broken down would be disastrous for any household so don't ignore signs of poor efficiency or damage to your machine.
If you're finding your washing machine is leaking, not heating or just not working quite like it used to, we can help. Give us a call on 0330 210 2100.
All our visits include full diagnostics, parts and labour so you won't need to worry about spiralling costs or sourcing parts when we visit. In fact, we are open about our Hotpoint washing machine repair pricing structure and you can learn more in the Help and Advice section of our website.
Enjoy trusted Hotpoint washing machine repairs with a quality guarantee
Hotpoint is a globally renowned household appliance manufacturer, known for its quality appliances such as their washing machines. These work exceptionally well, efficiently and quietly to ensure that you get the most out of your appliance and that your clothes come out as clean and fresh as possible.
However, with regular wear and tear, it's possible that you may encounter some Hotpoint washing machine faults. These can appear as fault codes on your display screen or you may start noticing that your appliance is starting to act abnormally. Examples of issues you might face include leaks, the drum not spinning, problems with heating, drainage issues and a whole lot more. That's when you need trusted Hotpoint washing machine repairs near you that come with a quality guarantee to assure you of a reliable service for greater peace of mind.
With Domex as your trusted Hotpoint washing machine repair service provider, you're in excellent hands. Our quality workmanship is renowned far and wide for its reliability. In fact, when you choose your Hotpoint appliance repair service to be carried out by one of our trusted engineers, you are choosing among the best in the industry.
We are known for our quality repair services and are a trusted household name. This is partially due to the fact that our engineers go through some of the most rigorous internal training in the industry, meeting the highest quality standards, as well as our 12 month guarantee on the fault repaired and/or spare parts fitted.
In addition to all this, when you book your service with us, you get professionalism and attention to detail that's unsurpassed, making us a multiple award-winning appliance repair service provider that you can always count on. Choose us at Domex whenever your Hotpoint washing machine gives you challenges and rely on our attention to detail, punctuality and efficiency.
With us, you will always get a call up to 30 minutes before your appointment so that your time isn't wasted and your schedule is on track. In addition, your assigned engineer will arrive in a branded van that's fully equipped with all the spare parts needed to carry out the job. This way, we keep all follow up visits and unnecessary costs to a minimum. In fact, nearly four out of every five repair jobs we carry out are completed successfully in just one visit. This are just some of the ways in which we strive to offer you a comprehensive service that covers everything from A to Z.
Accurate and reliable Hotpoint washing machine troubleshooting
If you are the proud owner of a Hotpoint washing machine, you know how reliable it is in getting your clothes fresh and clean just like you like them. But when your Hotpoint washing machine starts leaking, doesn't work, doesn't spin or drain or when its door won't open or close, you're faced with a challenge.
Luckily, your Domex engineer can attend to all types of Hotpoint washing machine problems giving you assurance and peace of mind that no matter what fault you are experiencing, you will get the restored functionality of your appliance and enjoy it to its full potential once again. With a restored longevity of your appliance that's backed by our 12-month guarantee on the fault repaired and/or spare parts fitted, you can now rest assured that your appliance is in safe and capable hands.
As an Approved Service Partner to multiple global appliance brands and manufacturers, we are a trusted name in the industry for quality appliance repairs. When you need a helping hand, simply reach out to us by calling or booking online and we'll ensure you get the best service possible. With us, you can avail of same-day and next-day appointments in addition to our weekly slots, meaning that whether you have an emergency or anything else, we'll be there for you every step of the way.
A Hotpoint washing machine engineer that you can always trust
When you need a Hotpoint washing machine installation or repair service, you need an established and trusted household name to take care of your washer problems. That's where we at Domex shine with exceptional attention to detail and accuracy that gives you the satisfaction and peace of mind you need to assure you of the restored functionality of your washing machine.
Indeed, when you choose Domex, you are choosing among one of the most trusted and reliable household names in the industry due to the exceptional training that our team of over 70 engineers go through.
We have been providing reliable appliance repair services for over 15 years. In this time, we have accumulated multiple awards that are a testament to our commitment to providing you with quality appliance repair services that you can always trust. Book your Hotpoint washing machine engineer with us today! When you have a Hotpoint appliance and need to book a repair service, you will always have peace of mind knowing your appliance is in excellent hands.
Why Choose Domex Appliance Services?
Fast, Reliable Service
We offer same-day and next day visits. With our outstanding first-time fix rate, 4 out of 5 repairs only need one visit.
Great Value
We quote diagnostic and repair fees separately. You only pay the repair fee if we fix your appliance. If we can't, you just pay for the diagnostic.
You Are in Control
Choose the day and time for us to visit, and we will send you a 3 hour window when our engineer is due to arrive.
We Are Experts
We know appliances and how to repair them. This is why we are trusted by most major manufacturers to be their service partner.
Confidence
You get an industry leading 12 months guarantee on your repair including any electrical / mechanical (non-cosmetic) parts we fit.
Trustworthy
Our experienced engineers are DBS (CRB) checked, trained comprehensively. We have awesome reviews, incredible service scores and multiple awards!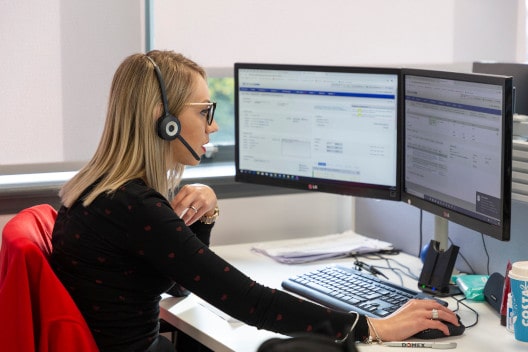 On top of that we offer a 1 year guarantee for all repairs we carry out giving you and assurance of quality with our work.
If you need a same day, evening or weekend visit then just give us a call and we will arrange our visit to suit you and your routine. We know how important your appliances are so when it comes to Hotpoint washing machine repairs we aim to get your day back on track as soon as possible.