Hotpoint Tumble Dryer Repair
Many homes rely on their tumble dryer as an essential appliance, but regardless of age or model, faults can occur. These can range from small, simple faults to severe faults which threaten to pose further issues, that's why at Domex we provide Hotpoint tumble dryer repairs.
Our expert engineers are fully trained and qualified to diagnose and repair faults on Hotpoint machines no matter how old. Get in touch with us today for more details about our repairs service for Hotpoint tumble dryers, we're always happy to help.
Hotpoint Tumble Dryer Installation
Providing highly efficient and reliable Hotpoint tumble dryer installation services, we can install any model for you at an excellent rate. Our technicians are trained and qualified, so if you have a Hotpoint tumble dryer and require installation services, look no further than Domex.
Hotpoint tumble dryer repairs with a quality guarantee
The Hotpoint brand has a global reputation for quality household appliances, among which are its durable tumble dryers. However, with regular use and wear and tear, it's possible that you'll find your Hotpoint tumble dryer giving you problems or experiencing faults. When this happens, you don't have to worry. That's because at Domex, our highly experienced engineers can cater to any Hotpoint appliance repair need, fixing and resolving issues to your complete satisfaction.
When you choose Domex for your Hotpoint tumble dryer repairs, you are choosing a trusted household name with over 15 years of experience in the industry. We take our job seriously and ensure that you get the highest quality service through accurate diagnostics and repair work. In fact, with our Hotpoint appliance repair service, you get a 12 month guarantee on the fault repaired and/or spare parts fitted as a testament to our commitment to giving you a service that you can count on.
When you are looking for Hotpoint tumble dryer repairs near you, you will always be assured of quality. In fact, our highly qualified engineers go through some of the most stringent internal training that not only meets but exceeds the industry standards. That is just one of the few reasons why we are an Approved Service Partner to multiple global appliance manufacturers, including Hotpoint.
In addition to all this, our quality service to you means that we will ensure you get reliable repairs that don't waste your time or money. In fact, we strive to keep all follow up visits to an absolute minimum and that's why nearly four out of every five repair jobs that we carry out are completed in just one visit. What's more is that your assigned Domex engineer will give you a call up to 30 minutes before the scheduled appointment to give you greater peace of mind. They will also come fully equipped with a broad range of spare parts to ensure that your job is carried out as punctually and efficiently as possible.
At Domex, we take great pride in our award-winning service, which is trusted by thousands of households, which have left exceptional ratings and reviews on Trustpilot. Get in touch with us for an exceptional service today!
Common Hotpoint Tumble Dryer Problems That We Fix
With a team of dedicated experts available, we can fix a whole host of problems which occur with your tumble dryer at any time. From minor faults to complete breakdowns, we respond quickly to help get your machine fully operational again as quickly as possible.
No one understands better than we at Domex the challenge you're faced with when you have a Hotpoint faulty dryer. It's frustrating and it can be costly and time consuming to repair. But when you choose Domex for your Hotpoint tumble dryer problems, you can rest assured that your appliance is in safe and capable hands as we work with perfection, attention to detail and excellent workmanship to restore the longevity and functionality of your appliance.
Some of the most common faults you might encounter include your Hotpoint tumble dryer not spinning or when your Hotpoint tumble dryer is not heating up. Whichever range of issues you are experiencing, you can count on our exceptional engineers for a high quality service.
We assure you of a quality household appliance repair service that is backed by an incredible 12-month guarantee as part of our commitment to you. We know that many appliance repair service providers often don't provide any guarantees or short-terms ones that don't give you the confidence you need in your appliance. With us, this is never something you have to worry about.
All you need to do is book your service appointment with us by giving us a call or booking online and our friendly and professional team will ensure you get the exceptional quality service that you deserve.
Your professional and reliable Hotpoint tumble dryer engineer
When you choose Domex for your Hotpoint tumble dryer repairs, you're assured of quality through and through. Our Hotpoint engineers are thoroughly trained to the highest industry standards and their professionalism and quality workmanship always shine through. They go through some of the most stringent internal training that gives you the peace of mind and assurance that you are looking for in your appliance repair service needs.
In addition to this, they are courteous and professional and don't waste your time. They'll give you a call up to 30 minutes before their appointment to make sure your day isn't wasted waiting around for an appliance repair engineer to arrive. We take your time and resources seriously and make every effort to assure you of quality and convenience.
So, when you need a reliable and professional Hotpoint engineer near you, count on the real professionals at Domex to give you the best service possible that's unmatched with our quality 12 month guarantee on the fault repaired and/or spare parts fitted and the thorough and comprehensive service we provide to each client we serve.
Why Choose Domex Appliance Services?
Fast, Reliable Service
We offer same-day and next day visits. With our outstanding first-time fix rate, 4 out of 5 repairs only need one visit.
Great Value
We quote diagnostic and repair fees separately. You only pay the repair fee if we fix your appliance. If we can't, you just pay for the diagnostic.
You Are in Control
Choose the day and time for us to visit, and we will send you a 3 hour window when our engineer is due to arrive.
We Are Experts
We know appliances and how to repair them. This is why we are trusted by most major manufacturers to be their service partner.
Confidence
You get an industry leading 12 months guarantee on your repair including any electrical / mechanical (non-cosmetic) parts we fit.
Trustworthy
Our experienced engineers are DBS (CRB) checked, trained comprehensively. We have awesome reviews, incredible service scores and multiple awards!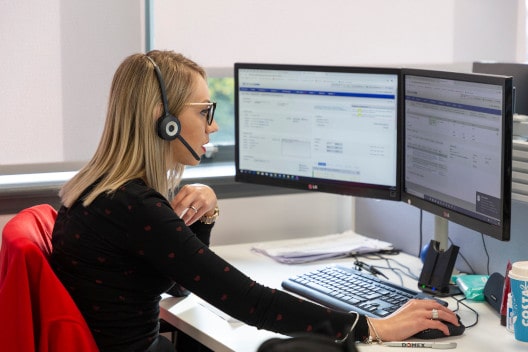 Common problems we tackle include:
Faulty heaters
Faulty thermostats
Blockages
Faulty belts
Motor issues
Bearing problems
If you'd like more details, or to discuss your tumble dryer issue, simply contact us and our professional team will be happy to help.