Hotpoint, founded in 1911, have long been making refrigerators, and while you should expect yours to last, there is always the risk it will break down or encounter faults. When it does, look no further than our dedicated engineers at Domex for Hotpoint fridge repairs.
In any home or business, the fridge is an integral appliance. Large or small, it's designed to keep perishables fresh, cool and ready to eat, so when your fridge breaks down it can leave you in a bit of a tough spot. Wherever you are in London, we can provide specialist repairs and even safe installation of new appliances.
Fridges contain refrigerants which can often make tinkering around with the appliance yourself somewhat risky. Whether it's a problem with your appliance not staying cool, an electrical fault or you notice water leaking from your Hotpoint fridge, we have the knowledge, tools and spare parts to help.
Reliable and quality Hotpoint fridge repairs
Founded in 1911 in the US, the Hotpoint brand today is synonymous with reliability, efficiency and quality. If you are the proud owner of a Hotpoint fridge, you'll know that this is definitely the case. Hotpoint fridges are energy efficient, quiet and operate at optimal temperatures to keep your food fresh and cool.
But when your fridge starts wobbling and malfunctioning, you're right to be concerned. The problems with a faulty fridge can result in food getting spoiled, which can be a big waste of money. Before you start worrying, you can rest assured that you can always count on the Domex engineers to help you with your Hotpoint fridge repairs.
With our quality workmanship and 12-month guarantee on faults repaired and/or spare parts fitted, your Hotpoint fridge will be in safe and capable hands. As an Approved Service Partner that's trusted by global manufacturers, including Hotpoint, your assigned Domex engineer will give you a call up to 30 minutes before their scheduled appointment with you and arrive fully equipped with all the tools and spare parts needed to carry out a thorough and reliable diagnostics and repair job.
As a multi award-winning appliance repair service provider, your Hotpoint fridge is in capable hands. We take great pride in the fact that we have served thousands of households in London and the surrounding areas for over 10 years and these happy customers have left glowing reviews for us on Trustpilot. With so many happy customers to our name who trust us, shouldn't you?
If you are ready to book your same-day, next-day or regular weekday service appointment, simply get in touch with us by giving us a call or by booking your service online through the form on our website. Our friendly team is on standby and ready to be of service in any way we can. With us at Domex, you can count on professionalism and reliability. We take our responsibility to you seriously and strive to give you the best service that results in greater peace of mind and service satisfaction. Book your service with us today!
A Hotpoint fridge engineer that expertly meets your service needs
One thing that we take great pride in at Domex is the quality of training each of our engineers goes through. This rigorous and intensive internal training not only meets but exceeds the highest quality standards in the industry and that's one of the reasons why we can offer you a 12-month guarantee on the fault repaired and/or spare parts fitted on your Hotpoint fridge.
When you book your service appointment with us, your Hotpoint fridge engineer will give you a call up to 30 minutes before their arrival so that you can prepare ahead and plan your day that much better. We don't want to waste your time and that's one of the reasons why we will strive to finish the repair job in as little as one visit. Apart from efficiency, reliability and professionalism, you can also rest assured that your engineer will bring along all the right spare parts with them, in addition to the tools needed for the job, so that your service needs are resolved as efficiently as possible.
Simply get in touch with us today by giving us a call or by booking through the form on our website. With over 10 years of experience to our name, there's no better appliance repair service provider that you can count on than Domex.
Professional Hotpoint fridge troubleshooting through quality workmanship
Large or small, new or old, your Hotpoint fridge is a sturdy home appliance that you rely on every day to keep perishable items cool and preserved for longer periods of time. But when your Hotpoint fridge starts giving you problems, whether leaking, making strange noises or not cooling properly, you're in a predicament.
With Domex at your side, this is no longer an issue you have to worry about. That's because with our quality workmanship on your Hotpoint fridge troubleshooting, you can rest assured that your fridge is in highly capable hands. Your assigned Domex engineer will accurately diagnose the issue and get to work on repairing it. They'll bring all the necessary spare parts to ensure that no time is wasted.
As an Approved Service Provider to multiple global appliance manufacturers, Domex is a trusted household name for quality appliance repairs. Book your same-day, next-day or regular weekday appointment with us today!
Why Choose Domex Appliance Services?
Fast, Reliable Service
We offer same-day and next day visits. With our outstanding first-time fix rate, 4 out of 5 repairs only need one visit.
Great Value
We quote diagnostic and repair fees separately. You only pay the repair fee if we fix your appliance. If we can't, you just pay for the diagnostic.
You Are in Control
Choose the day and time for us to visit, and we will send you a 3 hour window when our engineer is due to arrive.
We Are Experts
We know appliances and how to repair them. This is why we are trusted by most major manufacturers to be their service partner.
Confidence
You get an industry leading 12 months guarantee on your repair including any electrical / mechanical (non-cosmetic) parts we fit.
Trustworthy
Our experienced engineers are DBS (CRB) checked, trained comprehensively. We have awesome reviews, incredible service scores and multiple awards!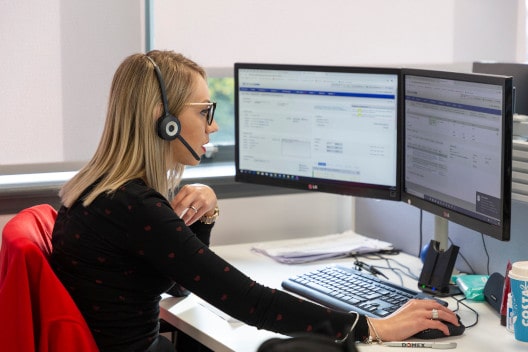 Book an appointment for the same day, evening or weekend and we'll arrange a time to suit your schedule – all our work comes with a one year guarantee for your peace of mind, too.
Don't suffer without your appliance, get in touch for Hotpoint fridge repairs today.