It's hard to imagine where we would be when it comes to long-term food storage in modern society without the fridge freezer. For that reason you should never ignore the signs of damage or decreasing efficiency with your Hotpoint fridge freezer, always call in the professionals as it can prevent a minor problem becoming a major one.
Here at Domex, we have over 10 years of experience in fridge freezer repairs, maintenance and installation so you can trust us when it comes to your appliance. You never need to worry about spiralling costs or sourcing parts as we provide full diagnostics, parts and labour.
Easy and convenient Hotpoint fridge freezer repair
Founded in 1911, over 110 years ago, Hotpoint is a major manufacturer of all types of home appliances. One of these is Hotpoint fridge freezers. As a powerful appliance, Hotpoint fridge freezers perform an important function in your home. They keep food cool and preserve it for prolonged consumption. Ultimately, their purpose is to help you retain food for longer and ensure you enjoy savings whilst doing so. 
Hotpoint fridge freezer repairs may be needed when your appliance suddenly stops working or if it isn't performing as it should be. Signs of this include leaking water under your fridge, the door not closing properly, the fridge emitting strange sounds, food not being kept cool enough and a whole host of other issues. This is where you need an experienced, professional Hotpoint fridge freezer engineer. Before you have yourself scratching your head about where to begin, try our engineers at Domex.
We not only have a collective of over 70 engineers, they also undergo thorough and intensive training in all Hotpoint fridge freezer problems. These engineers are well-experienced in handling all sorts of fridge problems, particularly Hotpoint ones, so that your appliance's longevity and functionality is extended and optimised. 
What we offer our customers as our stamp of quality includes the ability to resolve most Hotpoint fridge freezer problems in just one visit. This is because our engineers come well-stocked with a range of spare parts to ensure that your Hotpoint fridge freezer works optimally once again. Because we are also an Approved Service Partner by many global appliance manufacturer brands, our service is performed to the highest industry standards for the improved functionality of your Hotpoint fridge freezer.
Our service is also backed by a one-year guarantee on the fault fixed and/or the spare parts fitted. As such, you can enjoy much greater peace of mind and security that your Hotpoint fridge freezer will continue to work as expected. Trust Domex with your fridge freezer appliance needs today. We are a reliable, professional and trustworthy service provider which is ready to help you with your appliance repair needs at a moment's notice.
Your professional and highly experienced Hotpoint fridge freezer engineer
When you book your appointment with one of our engineers at Domex, you can count on a quality service. In fact, we have helped hundreds of people in our community with their appliance repair needs, including carrying out repairs of a Hotpoint fridge. 
Our service is appreciated by our customers to such an extent that they have left us exceptionally high Trustpilot ratings and reviews, which we are very proud of. We ensure that you get ultimate satisfaction from your appliance repair service, not least of which is due to the utilisation of the exceptional skills of your Hotpoint fridge engineer.
We at Domex understand that you lead a busy life. You don't have time to set aside for an appointment with an appliance repair person at their convenience and not yours. This is why we offer same- and next-day appointments, too. For your convenience and peace of mind. We also ensure professionalism by calling you up to 30 minutes prior to the engineer's arrival, ensuring that you can plan your day ahead more efficiently. We take great care in our ability to resolve almost every job in just one visit, and although depending on the problems, sometimes a follow-up visit will be required, this is kept to a minimum. 
You can always get in touch with us by giving us a quick call. We are ready and happy to be of service and to help you with your Hotpoint fridge freezer repairs. We've also made it very easy for you to book your service online as well. All you have to do is fill out the online form on our website and we'll get the process started as soon as possible. 
Simply tell us what you need, and even if you don't know what the problem is, you can rely on our engineers to diagnose and troubleshoot the problem in no time. We are efficient and effective and we carry the right spare parts with us to minimise inconveniences and to get the job done right the first time as far as possible. So, don't hesitate to reach out to us. We are more than happy to assist you with your Hotpoint fridge freezer repair needs.
Why Choose Domex Appliance Services?
Fast, Reliable Service
We offer same-day and next day visits. With our outstanding first-time fix rate, 4 out of 5 repairs only need one visit.
Great Value
We quote diagnostic and repair fees separately. You only pay the repair fee if we fix your appliance. If we can't, you just pay for the diagnostic.
You Are in Control
Choose the day and time for us to visit, and we will send you a 3 hour window when our engineer is due to arrive.
We Are Experts
We know appliances and how to repair them. This is why we are trusted by most major manufacturers to be their service partner.
Confidence
You get an industry leading 12 months guarantee on your repair including any electrical / mechanical (non-cosmetic) parts we fit.
Trustworthy
Our experienced engineers are DBS (CRB) checked, trained comprehensively. We have awesome reviews, incredible service scores and multiple awards!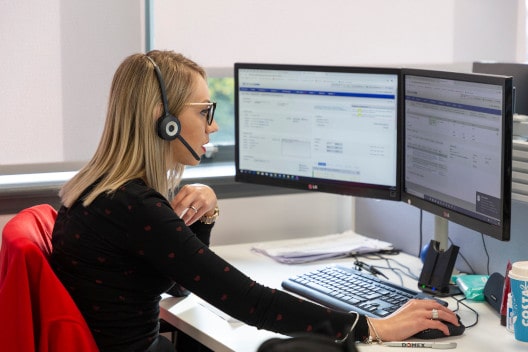 When your appliance is repaired by us we give you a 1 year guarantee to make sure the same problem doesn't reoccur. We know how important key appliances are to your home and family, which is why your appliances are important to us too.