Founded in Britain in 1911, the Hotpoint brand produces a multitude of high-quality domestic appliances that are known for their durability, reliability and safety. Of course, one of the brand's well-known appliances is their dishwasher range. These dishwashers often operate quietly and efficiently while ensuring that the chore of washing dishes is well taken care of. However, for various reasons, your Hotpoint dishwasher may start to malfunction or stop working altogether. While this is a natural part of the wear and tear process, it does mean added hassles for you because you need to call in experts that you can count on. Luckily, at Domex, that's exactly what we offer.
Professional Hotpoint dishwasher repair you can count on
Our trusted engineers have undergone some of the most rigorous and intensive internal training that not only meets but exceeds the industry standards. All this, together with the fact that we are an Approved Service Partner to multiple global appliance manufacturers such as Hotpoint means that you can avail of a quality service when you need Hotpoint dishwasher repairs. In addition to all this, you can also count on us for our 12-month quality guarantee on the fault repaired and/or the spare parts fitted on your dishwasher so that you have complete peace of mind knowing that your appliance is in excellent hands.
When looking for Hotpoint dishwasher repairs near you, you can count on our quality workmanship and our extensive 15 years plus in the industry to carry out a job that's well done. As an award-winning appliance repair service provider, we take great pride in our ability to provide quality and accurate troubleshooting that ensures you get the full functionality of your Hotpoint dishwasher restored to enable you to use it optimally once again. Your assigned Domex engineer will give you a call up to 30 minutes before their arrival and come fully equipped with a van that contains all the necessary spare parts so that you can enjoy greater peace of mind and not have your time wasted. Instead, you can have a comprehensive and quality service that restores the functionality of your appliance so that you no longer have to worry about washing the dishes by hand anymore.
Hotpoint dishwasher troubleshooting with efficiency and accuracy
As a trusted household name in the industry, the Hotpoint brand of dishwashers are known for their efficiency and good cleaning results. However, when you are experiencing Hotpoint dishwasher problems, you've got a challenge on your hands. Some common faults that arise with such dishwashers include when it is not draining, not starting, not working, not cleaning and not filling with water. When you're faced with any of these problems, you know you can rely on us at Domex for a professional solution to your appliance repair needs.
Our trusted engineers and our attention to detail as part of every service that we carry out have not only become a trusted household name. We are also an award-winning service provider that assures you of a quality and professional service through efficient and accurate repairs. Our repair service is also backed by a 12-month guarantee on the fault repaired and/or spare parts fitted, meaning you can enjoy greater and lasting peace of mind knowing your appliance's faults have been well taken care of. Through quality workmanship, efficiency and accurate troubleshooting, your Hotpoint dishwasher is in excellent hands.
Book your Hotpoint dishwasher installation or repair service with us today. You can do so by either giving us a call or by booking your service online. We offer not only same-day and next-day services but also regular weekly slots to ensure your dishwasher problems are resolved as swiftly and efficiently as possible. When you book your Domex engineer, they'll show great courtesy and respect for your time by giving you a call up to 30 minutes before their arrival. They'll also come fully equipped with all the necessary spare parts to ensure that we keep all follow up visits to an absolute minimum. In fact, nearly every four out of five repair jobs we carry out are completed in just one visit. A testament to our dedication to service quality and our promise of an exceptional service to you.
A highly trained and experienced Hotpoint dishwasher engineer for your needs
No one understands better than we at Domex how frustrating it is when your dishwasher stops working or starts malfunctioning. It's an unplanned hassle that you have to deal with because you need the efficiency and functionality of your appliance to be restored as quickly as possible to regain its full use once again. Luckily, when you choose Domex as your appliance repair service provider, you're choosing quality, professionalism and reliability through and through.
One of the reasons why we have become a trusted household name for appliance repairs and one of the reasons our service is award winning is because of our engineers. They go through some of the most stringent internal training that not only meets but exceeds the quality standards expected in the industry. That's just one of the reasons why we are considered an Approved Service Partner to multiple global appliance manufacturers, including Hotpoint.
So, when you need your appliance repaired, you know that you can always count on your assigned Domex Hotpoint dishwasher engineer. They are highly trained and exceptionally experienced and we trust in the quality of their workmanship to such an extent that we are happy to give you a 12-month guarantee on the fault repaired and/or spare parts fitted for your satisfaction and peace of mind.
So, when you have a Hotpoint appliance and you need to book a repair service, you can always count on us to deliver high quality results. Our service to you is backed by a substantial guarantee that is almost unmatched in the industry: a testament to our commitment to assuring you of quality repairs each and every time. Book your dishwasher repair service with us today by giving us a call or filling in the online form on our website. Our friendly and professional team is at your service, ready to help with any appliance repair needs you may have.
Why Choose Domex Appliance Services?
Fast, Reliable Service
We offer same-day and next day visits. With our outstanding first-time fix rate, 4 out of 5 repairs only need one visit.
Great Value
We quote diagnostic and repair fees separately. You only pay the repair fee if we fix your appliance. If we can't, you just pay for the diagnostic.
You Are in Control
Choose the day and time for us to visit, and we will send you a 3 hour window when our engineer is due to arrive.
We Are Experts
We know appliances and how to repair them. This is why we are trusted by most major manufacturers to be their service partner.
Confidence
You get an industry leading 12 months guarantee on your repair including any electrical / mechanical (non-cosmetic) parts we fit.
Trustworthy
Our experienced engineers are DBS (CRB) checked, trained comprehensively. We have awesome reviews, incredible service scores and multiple awards!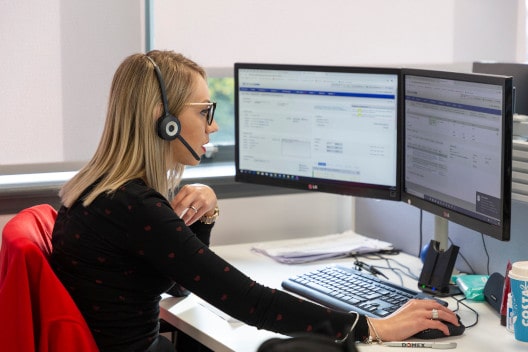 We fix problems including:
Faulty heaters
Faulty thermostats
Blockages
Faulty belts
Motor issues
Bearing problems
For more information, get in touch with us today and we'll be more than happy to help you.