A breakdown or damage to your fridge freezer could mean disaster for your family and a long term inconvenience when storing your food. Here at Domex we can get your day back on track with minimal fuss when you have an emergency on your hands.
There really is very little alternative when your Bosch fridge freezer breaks down for the storage of your food, that's why we offer a 1 year guarantee with all our repairs giving you peace of mind.
What's more you won't have to worry about sourcing parts or spiralling costs because we provide full diagnostics, parts and labour.
Bosch fridge freezer repairs performed with precision and excellence
Robert Bosch created the "Workshop for Precision Mechanics and Electrical Engineering" in Stuttgart in 1886. Since then, the Bosch brand has been known for its excellent quality household appliances that you use every day in your home. One of the brand's stand-out and often purchased appliances is a Bosch fridge freezer.
These fridge freezers stand out for a number of reasons. Not only do they have no frost build up, they are also energy efficient, they keep food fresher for longer and they are extra quiet. Despite these amazing functionalities, it's only natural that with time and wear and tear, your Bosch fridge freezer may break down completely or not function optimally.
This places you in a conundrum. How do you save time and money and get a quality and efficient repair service at the same time? The answer is simple. Domex. We at Domex are committed to the highest quality industry standards when it comes to Bosch fridge freezer repairs. In fact, we are an Approved Service Partner to multiple global appliance manufacturers. They have trusted us to repair their high quality fridge freezers. Shouldn't you?
Of course, we can boast about our service as much as possible. But you need proof. And we are here to share it with you. For starters, we provide a 12-month guarantee on the repaired faults and/or the spare parts fitted. With the spare parts, our engineers bring those along with them so that your service is as efficient as possible. This minimises back and forth and attempts to ensure that as many as nearly four out of five repair services with us are resolved in just one visit without the need for follow up visits.
A further part of our stamp of quality is that our engineers undergo intense and thorough internal training. But this training exceeds the highest quality standards as demanded by the industry. In short, with a Domex engineer undertaking your appliance repair work, you are in safe and capable hands.
Putting everything together, you can enjoy high quality local fridge freezer repairs for your Bosch appliance and rest assured that you can enjoy an extended longevity on the lifespan of your fridge freezer. This will save you many costs further down the road and ensure that one less hassle is taken care of by qualified and experienced professionals.
Repairing common and uncommon Bosch freezer faults with care
Bosch fridge freezers are one of the most complicated appliances in your home and because they fulfil such a critical function to your household's needs, any problems – big or small – need to be addressed as quickly as possible. Whatever types of Bosch freezer faults you may have, you can rest assured that our trusted engineers will be able to capably diagnose and troubleshoot the issues in question.
In fact, whether it's a fridge freezer thermostat replacement or a minor door seal problem, our engineers can handle it all. In fact, so many of our customers are so satisfied with the workmanship and quality of our work that they have given us exceptionally high ratings on Trustpilot expressing their deep satisfaction with us.
You will get the same quality service that we put our stamp of quality on and in addition to this, you can rest assured that an award-winning appliance repair service provider has competently resolved your fridge freezer problems.
As a courtesy to all our customers, your appointed engineer will give you a call up to 30 minutes before their arrival to also ensure that you don't waste unnecessary time waiting around for a repair person to arrive. This can help you plan your day much better and with more thorough preparation.
A trusted and experienced Bosch fridge freezer engineer is at your service
When you get in touch with us at Domex, you will be able to rely on our trusted service that is characterised by a stamp of quality that few in the industry can offer. With our 12-month guarantee on faults repaired and/or spare parts fitted, you can extend the longevity of your fridge freezer.
And in addition to this, you can rely on a Bosch fridge freezer engineer who is so thoroughly trained internally that the training standards exceed those required by global manufacturers. That's something we take great pride in and very seriously, too.
For your local fridge freezer repair, whether an emergency or not, you can book your appointment with us for a same-day or next-day service or whenever it is convenient for you. Get in touch with us by giving us a quick call or by filling in the short online form on our website. We are here for you at every step of the way and are ready to ensure that you get the best service possible.
Rely on experienced professionals to get the job done right and rest assured of the highest quality service standards with us. Reach out to us today!
Why Choose Domex Appliance Services?
Fast, Reliable Service
We offer same-day and next day visits. With our outstanding first-time fix rate, 4 out of 5 repairs only need one visit.
Great Value
We quote diagnostic and repair fees separately. You only pay the repair fee if we fix your appliance. If we can't, you just pay for the diagnostic.
You Are in Control
Choose the day and time for us to visit, and we will send you a 3 hour window when our engineer is due to arrive.
We Are Experts
We know appliances and how to repair them. This is why we are trusted by most major manufacturers to be their service partner.
Confidence
You get an industry leading 12 months guarantee on your repair including any electrical / mechanical (non-cosmetic) parts we fit.
Trustworthy
Our experienced engineers are DBS (CRB) checked, trained comprehensively. We have awesome reviews, incredible service scores and multiple awards!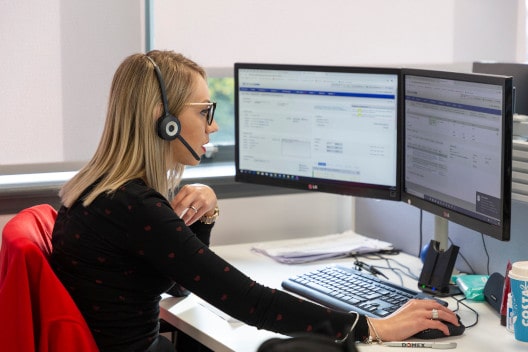 Your appliances are essential to the running of your household and we know how busy our customers are, sometimes there isn't enough time in the day to do everything you need to. That's why we aim to be as flexible as possible when attending to your repair needs, offering same day, evening or weekend visits.