At Domex, we're an approved service partner for Beko, which means that when your Beko fridge is in need of repairs in London, you need look no further for a trusted engineer.
We know how important your fridge is to your home, keeping your home stocked with fresh food for the family, that's why we have technicians offering same day, next day and weekend repair slots – we can even take care of installation if you're unsure of the safest way to carry this out.
With a range of parts in stock, experience in diagnostics and specialist Beko appliance knowledge, we provide efficient and reliable Beko fridge repairs – attending to everything from faulty electrics to leaking compressors. What's more, all our work on the fault will be guaranteed for 12 months for your peace of mind.
Book your professional Beko fridge repairs today!
The Beko home appliances brand has been in existence since 1955 and today, it has grown to be one of the leading manufacturers of fridges and other household appliances. Founded in Istanbul, Turkey, it's a highly reliable brand known for the quality of its products. In particular, its fridges are known for their reliability and energy efficiency, space optimisation, advanced cooling technology and so much more.
But like any appliance, your Beko fridge may go through some wear and tear and you may start encountering issues such as temperature issues, water leaks, ice or frost build-up, strange noises, a faulty compressor and the list goes on.
When you're faced with this situation, it's time to call in the professionals. At Domex, we have over a decade's worth of experience in maintaining and repairing domestic appliances including Beko fridges. With our multiple award-winning service, we've become a trusted household name for local appliance repairs. In addition to this, we are an Approved Service Partner to multiple global brands, including Beko, which means that we are perfectly equipped to handle your Beko fridge repairs with accuracy and professionalism.
Since we are trusted by some of the world's leading manufacturers, you can rest assured of a high-quality service that will give you greater peace of mind, knowing that your appliance is in safe and capable hands. Our quality workmanship is backed by a 12-month guarantee on the fault repaired and/or spare parts fitted, meaning that you can forget about your Beko fridge giving you problems for the foreseeable future. That's one less hassle to worry about and one more thing to take off your to-do list.
All you have to do is get in touch with us and book your Beko fridge repairs today. Our friendly team is ready to help and be of service to you. Booking is made easier than ever before as you can either call us or fill in a short online form on our website. Once you've booked your service, you can count on your assigned engineer to give you a call up to 30 minutes before arriving for their appointment so that you don't waste your time.
In addition to all this, your Beko fridge engineer will try to resolve the issue in as short a time as possible. In fact, we strive to keep all our follow-up visits to an absolute minimum. And in nearly every four out of five cases, we finish the job in just one appointment. Get in touch with us for quality and reliability today!
Your highly trained and well-qualified local Beko fridge engineer
When your Beko fridge starts giving you problems and starts malfunctioning or stops working altogether, you're right to be concerned. This is not only an unnecessary hassle but it can feel like time wasted looking for the right Beko fridge engineer to attend to the problem in question. If you're faced with such a situation, you can rest assured that with Domex, all your appliance repair needs will be covered reliably, professionally and meticulously.
As an Approved Service Partner to many global appliance manufacturers, we take great pride in our ability to resolve minor and major Beko fridge issues. Global brands trust us because of the intense and rigorous internal training that our engineers go through.
They are recognised as being among the best in the industry and that's just one of the reasons why we are a multi award-winning service provider. Apart from being trusted by global appliance manufacturers, we are also trusted in our local communities. In fact, we have received hundreds of positive ratings and reviews on Trustpilot, left by happy customers who have relied on our services to get the job done right on time, every time.
With our exceptional 12-month guarantee on faults repaired and/or spare parts fitted, you can now rest assured that your appliance is in good hands. And to ensure you get a comprehensive service from us from A to Z, your assigned Beko fridge engineer will give you a call up to 30 minutes before their arrival so that your time isn't wasted.
Get in touch for accurate diagnostics and professional Beko fridge troubleshooting
When you choose Domex to handle your Beko fridge troubleshooting, you are choosing a highly reliable and professional appliance repair service provider with over a decade's worth of experience in the industry.
What's more is that we have a team of over 70 engineers who are fully qualified to do the job just right. As a result of their rigorous and intensive internal training, which exceeds the industry standards for quality, you can rest assured that your Beko fridge issues will be accurately diagnosed and professionally repaired for your peace of mind.
Rely on our 12-month quality guarantee on faults repaired and/or spare parts fitted and you can enjoy the full and restored functionality of your Beko fridge once again. No more noises and leaks. No more ice or frost build up. And no more mechanical issues that result in spoiled food.
We are here for you and ready to help. Get in touch with us today!
Why Choose Domex Appliance Services?
Fast, Reliable Service
We offer same-day and next day visits. With our outstanding first-time fix rate, 4 out of 5 repairs only need one visit.
Great Value
We quote diagnostic and repair fees separately. You only pay the repair fee if we fix your appliance. If we can't, you just pay for the diagnostic.
You Are in Control
Choose the day and time for us to visit, and we will send you a 3 hour window when our engineer is due to arrive.
We Are Experts
We know appliances and how to repair them. This is why we are trusted by most major manufacturers to be their service partner.
Confidence
You get an industry leading 12 months guarantee on your repair including any electrical / mechanical (non-cosmetic) parts we fit.
Trustworthy
Our experienced engineers are DBS (CRB) checked, trained comprehensively. We have awesome reviews, incredible service scores and multiple awards!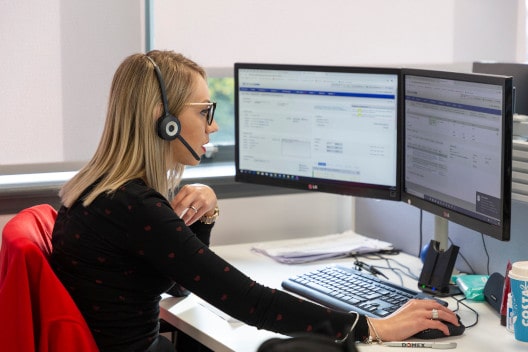 To arrange an appointment with an engineer or to get a quote for your Beko fridge repair in London, simply contact us today – we'll provide a 3-hour window appointment so you aren't waiting around all today.