Throughout its lifetime your fridge freezer will be one of the most, if not, the most used appliance throughout your home. With this in mind, from time to time you may find it is not functioning as efficiently as it used to and is in need of repair. In which case, you can count on Domex.
We specialise in all models of Beko fridge freezers and our expert technicians have a vast range of experience in diagnostics and repair. We have a wide selection of parts in stock and ready for installation should your Beko fridge freezer require them.
Beko fridge freezer repairs you can always rely on
The Beko brand has been bringing you quality household appliances for more than six decades. In this time, the brand has grown from strength to strength, expanding in multiple international markets. With their rising popularity, it's clear that their focus is on excellence in domestic appliances. And with this in mind, one of their most popular ones is the Beko fridge freezer. It's a multifunctional unit that aims to keep your food preserved and fresher for longer.
But no matter how well you take care of your Beko fridge freezer, natural wear and tear will occur along the way, leading to the need for Beko fridge freezer repairs. Since this is a complicated and expensive appliance, you don't want just anyone looking and repairing it. You need a trained and professional engineer who can offer you the best service possible.
Wondering where to find that type of specialist experience and professionalism? At Domex, of course! Each of our engineers undergoes stringent internal training that even exceeds the quality standards expected by global manufacturers like Beko. In fact, our service to you is so thorough that it even comes with a guarantee. Yes, we offer a 12-month guarantee on the faults repaired and/or the spare parts fitted.
If you're worried about spare parts, there's no need to be. Each of our engineers arrives in a fully equipped van that contains not only the right tools to get your local fridge freezer repairs done in an excellent and efficient way, they also bring with them a wide range of spare parts to ensure that no follow up visits are required.
Indeed, we try to keep follow up visits to a minimum. We have calculated that nearly four in every five appliance repair appointments are resolved in just one visit. This means that you can plan your day ahead that much better without having to waste hours wondering when your repair person will arrive. And speaking or arriving, our engineers will give you a courtesy call up to 30 minutes before their scheduled appointment to ensure that you use your time as effectively as possible. We are not here to inconvenience you. On the contrary, we are here to help.
All that you have left to do is get in touch with us! Our friendly and helpful team is on standby to book your same-day, next-day or another day's appointment. Whether you have an emergency or a repair job that can wait a few days, simply give us a call or fill in the online form on our website.
A reliable and trustworthy Beko fridge freezer engineer you can count on
Because each of the Domex engineers undergoes such thorough internal training that exceeds the highest quality industry standards, we are an Approved Service Partner recognised by many global brands. This means that with us, your quality service is guaranteed. This is nowhere more made apparent than with our 12-month guarantee on faults repaired and/or spare parts fitted.
Your Beko fridge freezer engineer will be fully equipped with all the spare parts needed to get the job done right the first time around. We have even determined that most of our engineers' visits are resolved the first time with no need for follow up appointments.
Our stamp of quality is evident in every aspect of our service. This is what makes us an award-winning appliance repair service provider. In fact, our multiple successful resolutions to problems such as Beko fridge freezer thermostat replacement have earned us our customers' trust and this is why we have an exceptionally high Trustpilot rating with countless positive reviews as testament to our quality service.
Reach out to us today to make sure your Beko fridge freezer is repaired by a qualified professional. Our same-day and next-day appointments are available at your convenience for greater peace of mind.
Beko American fridge freezer repairs with a difference
At Domex, we believe in offering our customers the highest quality appliance repair service they can get. In fact, our workmanship is guaranteed through our 12-month guarantee on faults repaired and/or spare parts fitted. In particular, we can help you with your Beko American fridge freezer repairs or repair any other type of model you may have.
With our local fridge freezer repair service, you also get to take advantage of the fact that we have many years of experience to our name and you can rest assured that you'll feel safe and assured with our engineers. This is because they are all thoroughly DBS checked for greater safety and peace of mind.
We uphold professional standards to the highest level at every repair job we undertake and we aim to serve you to the best of our ability. Contact us today for more peace of mind that your appliance's longevity will be extended and that the fault that has arisen will be dealt with by experienced professionals.
Simply give us a call or fill out the short online form on our website. Our friendly team is ready and very happy to be of service to you.
Why Choose Domex Appliance Services?
Fast, Reliable Service
We offer same-day and next day visits. With our outstanding first-time fix rate, 4 out of 5 repairs only need one visit.
Great Value
We quote diagnostic and repair fees separately. You only pay the repair fee if we fix your appliance. If we can't, you just pay for the diagnostic.
You Are in Control
Choose the day and time for us to visit, and we will send you a 3 hour window when our engineer is due to arrive.
We Are Experts
We know appliances and how to repair them. This is why we are trusted by most major manufacturers to be their service partner.
Confidence
You get an industry leading 12 months guarantee on your repair including any electrical / mechanical (non-cosmetic) parts we fit.
Trustworthy
Our experienced engineers are DBS (CRB) checked, trained comprehensively. We have awesome reviews, incredible service scores and multiple awards!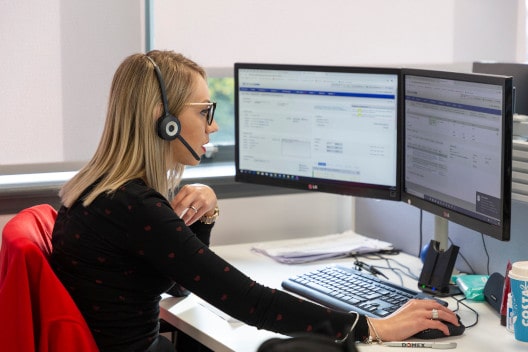 We understand that you may lead a very busy lifestyle and it can be difficult to fit fridge freezer repair into your day. That's why we offer same day, evening, and also weekend visits upon request so that you can get the fridge freezer repair you need when you need it most.